Beginning of main content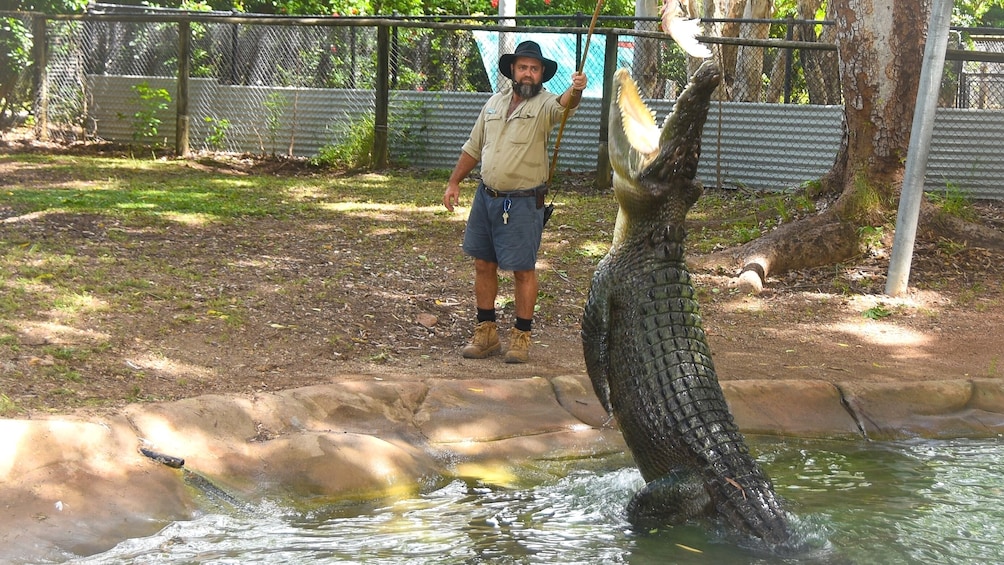 Billabong Sanctuary
By Billabong Sanctuary
Features
Free cancellation available
Interacting with Australian native animals

Learning all about Australia's unique animals

Bush setting with animals displayed in natural habitat

Boutique wildlife park with personalised experiences

Passionate, friendly staff who make the day special
Billabong Sanctuary
Opening hours: Sat. 9:00 am-5:00 pm
Price is AU$38.00 per ticket, price for 1 Adult is AU$38.00
---
What's included, what's not
Wildlife talks throughout the day commencing at 10am.
Getting up close to a koala
Hold the following animals: small crocodile, python (snake), lizard, parrot
Pat a wombat. Feed a cassowary and the turtles. Meet a dingo
Watching feeding of giant estuarine (saltwater) crocodiles
Swimming pool and shady picnic areas
Surcharge to hold a koala and receive a souvenir photo and digital copy
Surcharge to hug a wombat and receive a souvenir photo and digital copy
Easy to locate on Highway 1

Ample free parking

Wheelchair friendly access; pathways are unsealed but well-groomed

Blinky Bill Cafe for a snack or lunch

Tropically landscaped swimming pool

Souvenirs as a momento of your visit.

Ages 4 & above
Billabong Sanctuary is Australia's Best Interactive Wildlife Experience!
We invite you to get up close and personal with Australia's unique native animals.
Imagine this: You could actually hold a real-live little crocodile, stand cheek to cheek with a koala, pose with a python draped over your shoulders, hug a wombat, pat a dingo, feed grapes to a majestic cassowary, hand-feed kangaroos, cuddle a cute little lizard, even feed turtles at the edge of the billabong and more!! Nowhere else can you enjoy such a variety of hands-on experiences with our amazing native animals.
Throughout the day our rangers present dynamic and entertaining wildlife talks. They are passionate about the animals and birds in their care, and it shows! During each presentation they share their knowledge of the fascinating aspects of behaviour and biology that make Australian fauna unique. For example, did you know that a wombat can run faster than an Olympic sprinter! Apart from all the fun facts, you will also learn about conservation issues that face our wildlife and how you can help in your own community.
The setting for your experience is a boutique wildlife park set in peaceful woodlands, free from big crowds. Stroll around the billabong and visit our animals in surroundings which reflect their natural habitats of wetlands, eucalypt forest and rainforest. As a year-round source of water, the billabong attracts flocks of local free-ranging birds. Get up close to whistling ducks, egrets and spoonbills, and watch for the sea eagle soaring overhead. Amazing photo opportunities!
The most exciting experience at the Sanctuary is the twice-daily feeding of giant estuarine (saltwater) crocodiles. Thrill to the spectacle as the largest reptiles on the planet explode out of the water to grab their food. Learn about the amazing adaptations that have allowed these powerful predators to survive unchanged since the age of dinosaurs. Be sure to pay attention as Rangers also explain how you can stay safe and still enjoy all the wonders of the great outdoors in tropical north Queensland.
Another highlight of your day is the free flight bird show. Birds of prey swoop over your head and snatch their food in mid-flight, in an awesome display of aerial agility. After the show a friendly parrot will happily sit on your shoulder for a memorable photo.
Plan your trip in a snap on the app
From home or hammock, organise your entire escape and explore app offers