Top Luxury Destinations
Experiencing the sights, sounds, culture and cuisine of a new and exciting country, with the comfort and security of a fine resort or hotel to return to at the end of each day, is one of life's great treats. Here are five destinations that provide discerning travellers from around the world with all the luxury they demand...and sometimes even more than they expect!
1

Luxury Holidays in Phuket

From busy Patong to beautiful Bang Tao and beyond, Phuket has luxury accommodation and activities for every taste. For somewhere superb to stay, choose from the range of five-star hotels, exotic villas, superb suites, and exclusive resort spas that have found their way into the finest spots on the island's coastline. All offer top-class facilities and service – and all are in prime locations, overlooking the blue waters of the Andaman Sea.

As a general rule of thumb, the closer you are to Patong, the more action there will be, so all you need do is decide between peace and quiet or party fun. Once you've made your choice, you can begin to plan what to do with your time in Thailand's holiday playground: a visit to stunning Phang Na Bay by cruise or charter boat; a round of golf at Blue Canyon; an exclusive fishing or drive trip – or perhaps an unforgettable elephant safari.

There's plenty to keep you busy in Phuket, though you may prefer to do nothing more than enjoy your resort and its world-class amenities.
Packages to Phuket from $1241*
2

Luxury Holidays in Mexico

There are magnificent resorts right across Mexico, and especially around its Atlantic, Pacific and Caribbean coastlines, where A-list travellers from around the world come to play and relax. Stay on a hilltop overlooking the Sea of Cortez, head for the unbeatable beach life at Cancun, base yourself near Mayan relics or in one of the splendid colonial cities – Oaxaca, Guadalajara or Mexico City. Don't forget to check out Los Cabos and the options in Baja Mexico, Acapulco or Ixtapa...and Cozumel is simply stunning.

The sights in this country are world-famous, but don't forget to relax with a round of golf, a boat cruise from one of the beautiful marinas and a visit to a luxury spa (there are literally hundreds to choose from).

Acapulco is busy and glamorous; while further down the Pacific Coast from Puerto Vallarta, Manzanillo and Costa Alegre are tranquil havens. You might also consider taking the cultural option, Merida and the Mayan archaeological zone, and explore the legendary ruins at Chichen Itza, Uxmal and Campeche: you'll find excellent luxury accommodation on offer here too.
3

Luxury Holidays in Bali

Whether you opt for an exclusive coastal resort or a cool, green highland hideaway, Bali's luxury accommodation is brilliant. And, while the blue waters and soft sands are world-renowned, and it's tempting to spend your days here in self-indulgent relaxation, there's plenty to keep you busy as well – from fine shopping to sporting action. Tee off on an emerald-green tropical fairway, charter your own vessel and cruise the warm coastal waters, head off on an elephant safari, go deep-sea diving or explore the island's interior.

Choose an elegant waterside hotel, a beachfront bungalow or a romantic villa with views of the Indian Ocean: there's a style of accommodation here to suit the most discerning of international travellers. For sophistication, base yourself in Seminyak or Nusa Dua; for tranquillity and lazy days on the sand head to Jimbaran – and for somewhere a little different, go inland and up-country to Ubud.

Bali is beautiful...and the friendly Balinese love to pamper their luxury visitors, so get ready for serious indulgence.
Packages to Bali from $957*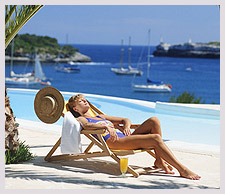 4

Luxury Holidays in Bahamas

These islands are a popular playground for the privileged, and draw seekers of luxury to their palm-fringed shores in droves. Their Caribbean setting, relaxed lifestyle, friendly people and the world's clearest seawaters make them a perfect holiday paradise.

When you're looking for luxury here, you'll have the choice of sophisticated high-rise, casino-resorts or tranquil, waterside hideaways. Although there are numerous islands in the group, only 14 are populated to any extent – and each is different.

Nassau/Paradise Island has a wealth of luxury options, and although this island is also the centre for casinos and big hotels, it does boast some intimate resorts. For a sporting holiday go to Freeport/Lucaya on Grand Bahama; for total peace and quiet, romantic Eleuthera/Harbour Island is perfect. The Abacos chain has dubbed itself the sailing capital of the world – and with 120 miles of blue seas and islands, it's probably a fair call.

The Bahamas offer almost every type of luxury resort available, so you'll easily find one that's just right for you.
5

Luxury Holidays in Fiji

Fiji's marvellous beaches are attracting more and more luxury-loving international travellers – many of whom fly from the other side of the world to enjoy the silky coral sands and clear blue waters. To match demand, the range of luxury accommodation, sightseeing and activities in these islands is superb. There are small and exclusive island resorts, large and luxurious resort complexes, luxury cruises and sightseeing flights, exclusive dive trips and more – and, of course, picture-perfect fairways for golfers.

Many premium-grade travellers to Fiji are looking for nothing more than the incomparable luxury of doing nothing at all for as long as they please – and that is something that comes easily in this relaxed destination. Beachside hammocks offer the perfect place in which to do nothing!

For those who want to be pampered as well, there are fabulous spa resorts, designed for total self-indulgence.

Fiji is so close to home, and so different: for five-star luxury, we think it's hard to beat.