Top Adventure Holiday Destinations
If white-knuckle adventure's your thing, there's a massive amount of choice out there – but five destinations reign supreme. These are the places where excitement rules all year round – so whatever your taste in thrills, you'll won't be disappointed.
1

Marrakech Adventure Holidays

A world away from everyday life, this fabulous, rose-coloured Moroccan city is a stunning destination – and where adventure is concerned, it's hard to beat. Marrakech is a base for rafting, kayaking, 4x4 driving, mountain biking, hot-air ballooning, trekking along ancient Berber trails, Sahara Desert expeditions, peak-bagging in the legendary High Atlas Mountains, desert camping with the nomads, galloping on horseback over hot Moroccan sands and – of course – taking a trip on the one-and-only Marrakech Express. Another 'must' is an extended visit to the World Heritage town of Essaouira on the Atlantic coast – you won't regret it.

But you don't have to leave Marrakech to find excitement: the Medina (old quarter) with its famous Kasbah and Djemaa El Fna (central square), is an adventure in itself - and if that's not enough, there are 16 kilometres of ancient ramparts to explore, plus antique palaces, souks, tombs and mosques. This city has it all, in one of the world's most exotic and exciting landscapes.
2

Peru Adventure Holidays

This slice of South America is a firm favourite with adventure-seeking travellers from all points of the compass, and it's easy to see why! Peru is bursting at the seams with awe-inspiring scenery, archaeological treasures and amazing wildlife. There's the world-famous challenge of hiking to Machu Picchu – but that's just the start. You'll find opportunities for mountaineering, jungle trips, mountain biking along Inca trails, 4x4 adventures, paragliding and hang-gliding over breathtaking mountains and valleys, rafting, rock-climbing and even surfing.

Peruvian wildlife encompasses 32 spectacular species of primates, big cats, the llamas and alpacas of the Andes and some of the world's most brilliantly coloured birds (ever seen a toucan in the wild?) – so be sure to visit one of the big conservation areas and experience these creatures first-hand. And don't forget to take a boat trip on Lake Titicaca, the highest navigable stretch of water in the world. Top places to base yourself for an adventure in Peru are Cusco and Arequipa – or Puno, if you're heading to Lake Titicaca.
Car hire in Peru from $35*
3

Vancouver Adventure Holidays

This sophisticated Canadian city doubles as a starting point for adventure opportunities of all sorts, from canyon trips to sea safaris, eco-tours, whale-watching, mountain-biking, rafting, mountaineering, rock-climbing, diving, wilderness safaris and kayaking some of the greatest lake and ocean routes in the world. The list of activities in and around Vancouver is huge: you name it, and we're pretty sure you'll find it!

Just a ferry ride away is Vancouver Island, recently voted one of the 12 best islands in the world – and it's packed with its own share of challenging adventure opportunities. You're also within easy reach of one of the world's mountain-bike and winter sports capitals, Whistler – where you can experience the unforgettable fun of dog-sledging behind a team of huskies. Don't hurry away from Vancouver and the brilliant B.C. region: if adventure's your thing, you'll want a whole lot of time here!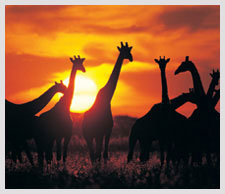 4

South Africa Adventure Holidays

From one end of this big, exciting country to the other there are adventures just waiting to happen. The greatest of all is a wildlife safari, and if you're making your first visit to the Dark Continent this is one thing you must not miss. But it's far from the only thrill on offer: wild times here range from the highest abseil in the world (at Cape Town's Table Mountain), to deep-sea diving along a fabulously scenic coastline.

You'll find kayaking, rafting, hiking, rock-climbing, horseback safaris, paragliding, the world's highest bungy jump, bridge swinging, microlight flights, hang-gliding, sand-boarding, shark-cage diving, kite-surfing, gorge-gliding and a whole host of other special outdoor expeditions and challenges, from fairly "soft" to frankly terrifying. And, when it all gets a little too much, take time out to visit one of the scenic wine regions and sample the excellent local produce!

We recommend Cape Town as an unbeatable adventure base for a South African adventure.
5

Queenstown/Milford Adventure Holidays

Everyone knows this little New Zealand town offers the biggest adventures of all: adrenaline junkies from around the world flock here to frighten themselves silly! Queenstown is the home of the first-ever bungy jump – and it's no less scary now than it ever was. But there's more to this area than leaping into space: take your pick from raft trips and jet boat adventures, heli-skiing, hang-gliding, formidable 4x4 trips, mountain-biking, skydiving, high-country horse rides, magnificent walking tracks, sky-swinging, snowboarding – the list goes on and on...and on!

Last but certainly not least is the place voted the world's No. 1 natural attraction: Milford Sound. Try sea-kayaking or aerial sightseeing in this pristine wilderness, and take a day or overnight cruise: it's unlike anywhere else on Earth. And, for the ultimate Queenstown/Milford experience, how about conquering the legendary Milford Track?

Base yourself in Queenstown, Arrowtown or Te Anau (for Milford Track) and get ready for the time of your life!